Vision House
Orlando, FL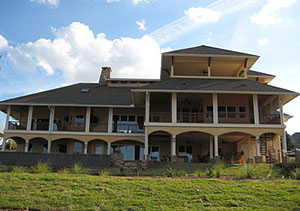 Photo: Roberto Carrion
Testimonial from Roberto Carrion,
Vision House owner:
The thing I like most about my "green" home is the cistern system, which can save up to 7,000 gallons of rain water. Every time it rains I get a good feeling, because I know wonderful things are happening on my land to help preserve the environment we live in and conserve our dwindling potable water sources.
My primary objective was to construct a quality home, so I focused on educating myself on building science principles and how to incorporate them into quality construction.
The more I learned about building science, the more I learned about building "green", and I realized it wouldn't take that much extra effort to invoke "green" building principles as well.
At the end of the day, I live in a home that demonstrates both building science principles and green building principles.
The Vision House is part of a group of demonstration projects around the country that showcase the National Association of Home Builder's Model Green Building Guidelines.
Situated on Lake Apopka, just outside of Orlando, the home was constructed using plans to minimize the impact on the natural resources and environment surrounding it. Architects paid close attention to water and energy efficiency and incorporated features that take advantage of the local climate, such as high quality insulation and high performance windows and doors, providing a well-sealed building envelope. Right down to the landscaping, which utilizes native, drought resistant species to minimize the need for irrigation, this home is a perfect example of what "green" building really means.
Specific "green" features include:
Cistern tanks used to collect rain and wastewater to be treated and reused for irrigation
Low-flow plumbing fixtures and water efficient appliances
Structural Insulated Panels (SIPs) – prefabricated foam panels that reduce time and expense used to build home
Non-vented, semi-conditioned attic space
Minimal use of east and west-facing windows
Dehumidifiers used throughout HVAC planning
Proper management of storm water runoff
Low-emittance, double pane windows
Use of recycled materials during construction
Advanced foundations and house wrap materials to provide water-proof membrane and keep water out of house, eliminating risk of water damage, mold, health issues, etc.
Low-volatile organic compounds (VOC) paints, adhesives, flooring, and rugs
Natural wood obtained from certified forestry
Indoor plants for natural air purification