Rinker Hall — University of Florida
Gainesville, FL
LEED Certification Level: Gold
Date Certified: May 7, 2004
*First LEED Gold certified building in Florida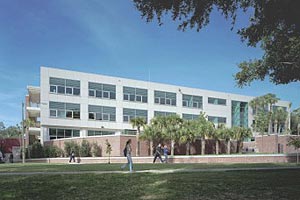 Photo: Timothy Hursley
Rinker Hall, located on the east side of the University of Florida campus, provides a productive and healthy environment for students, faculty and staff through its LEED Gold certified building design and construction. Rinker Hall utilizes energy and water efficiency tactics, environmentally friendly construction methods, and provides high indoor air quality for all of the building's frequent inhabitants. By designing and constructing a high performance building envelope, as well as utilizing lighting controls such as motion detectors, the building's energy savings is 50 percent more than the projected savings by the American Society of Heating, Refrigerating and Air-Conditioning Engineers.
Key "Green" Features:
Bicycle racks and shower facilities
Preservation of existing trees and vegetation
Adjacent to campus bus stops
Use of rainwater harvesting
Low-flow plumbing fixtures; waterless urinals
Reclaimed water system for irrigation
High performance wall with "rain screen" metal wall panels, insulclad aluminum doors, and low-emittance insulated glass
Building material reuse from previous campus construction, use of recycled content, certified wood, local/regional materials
Day lighting used throughout building
Low-Volatile Organic Compound (VOC) materials such as interior paint, adhesives
Operable windows
No smoking policy
Waste management plan post-construction
View the USGBC case study.