Glencairn Cottages
Dunedin, FL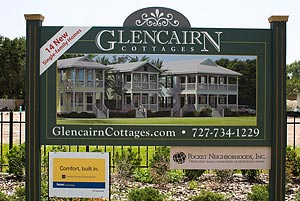 Glencairn Cottages is a "green" development recently certified by the Florida Green Building Coalition (FGBC). Comprised of 14 cottages, ranging in size from 1,320 to 2,000 square feet, the development's builders are focused on creating a small community full of exceptional homes while reducing energy and water consumption and preserving natural resources.
Centered around a spacious courtyard full of tropical landscaping, each home will be built under the guidelines suggested by the FGBC and Environmental Protection Agency for ENERGY STAR status.
Homes will be constructed with high quality insulation and state-of-the-art heating and cooling systems to increase efficiency and reduce energy consumption. Hot water will be provided by tankless water heaters that can save homeowners up to 40 percent more on energy costs than a conventional electric hot water system. Other energy-saving features like low-emittance insulated windows and radiant barrier roof sheathing will also be utilized throughout the development.
Detailed features of each of the homes include:
ENERGY STAR certification Certification by the FGBC as a "Green Home" and "Green Development"
Energy saving R-30 insulation in 2nd floor ceiling
Energy saving R-19 insulation in bottom floor
Energy saving R-13 insulation between studs on exterior walls, plus an additional R-3 from Insulated Siding, providing an overall R-value of R-16 in all exterior walls
State-of-the-art 15 SEER HVAC system, zoned to increase efficiency and reduce energy consumption
Tankless Water Heater, providing endless hot water and savings of up to 40% over conventional electric hot water tank systems
ENERGY STAR low-E, tinted, dual pane, single-hung vinyl insulated windows with grids, screen, and tilt lower sash for easy cleaning (U-factor = 0.35, SHGC = 0.27)
Premium fiberglass insulated exterior doors with 25-year warranty Low-flow shower heads to reduce water and energy use
Dual flush, low-flow toilets to minimize water consumption House Wrap for energy efficiency and mildew prevention
Radiant Barrier roof sheathing blocks up to 97% of the radiant heat from entering your attic, keeping your home cooler and cutting energy bills by up to 17%
Foam sealer at exterior wall electrical boxes to minimize intrusion of unconditioned air into the home
All ductwork joints sealed with mastic to eliminate excessive energy use and to ensure proper system pressure balance
Floor joist perimeter insulated and sealed to prevent leakage of unconditioned air and moisture into the floor cavity
All hot water pipes insulated to minimize heat loss